Waterproof plaster
The majority of the areas in Pakistan are facing a major problem, their local water has a reasonable amount of salt. From that salt is absorbed in the building when water is used in the construction of their houses. As the water evaporates and dissolves into the air, water salts remain on the outer surface of the plaster. The chemical reaction starts between the cement and the salt in which the cement loses its strength and as a result, falls off the wall.
Pind Dadan Khan District Jhelum, Sargodha Division, Faisalabad Division, Multan Division, Lahore Division, Sahiwal, Multan Division, Bahawalpur Division, Dera Ghazi Khan Division, apart from this problem exists in the coffee area of ​​Sindh.
To overcome this problem, waterproof plaster has been introduced. It is applied like normal plaster. By which it has a permanent cure for the problems of Sam. Also, if grinding is done with a hand grinder on this wall, a beautiful texture can be found. After that, the need for color paint on the wall is also permanently eliminated.
This Technology is invented by Professor Munawar Ahmad Malik, CEO of SOBER Technologies Islamabad. SOBER Technologies International company is basically promoting and producing new technologies, innovations and inventions developed by prof. Munawar Ahmad Malik, a renowned scientist of Pakistan and inventor of more than 50 inventions.
The products related to solar energy, energy conservation and construction field, will be discussed in this platform.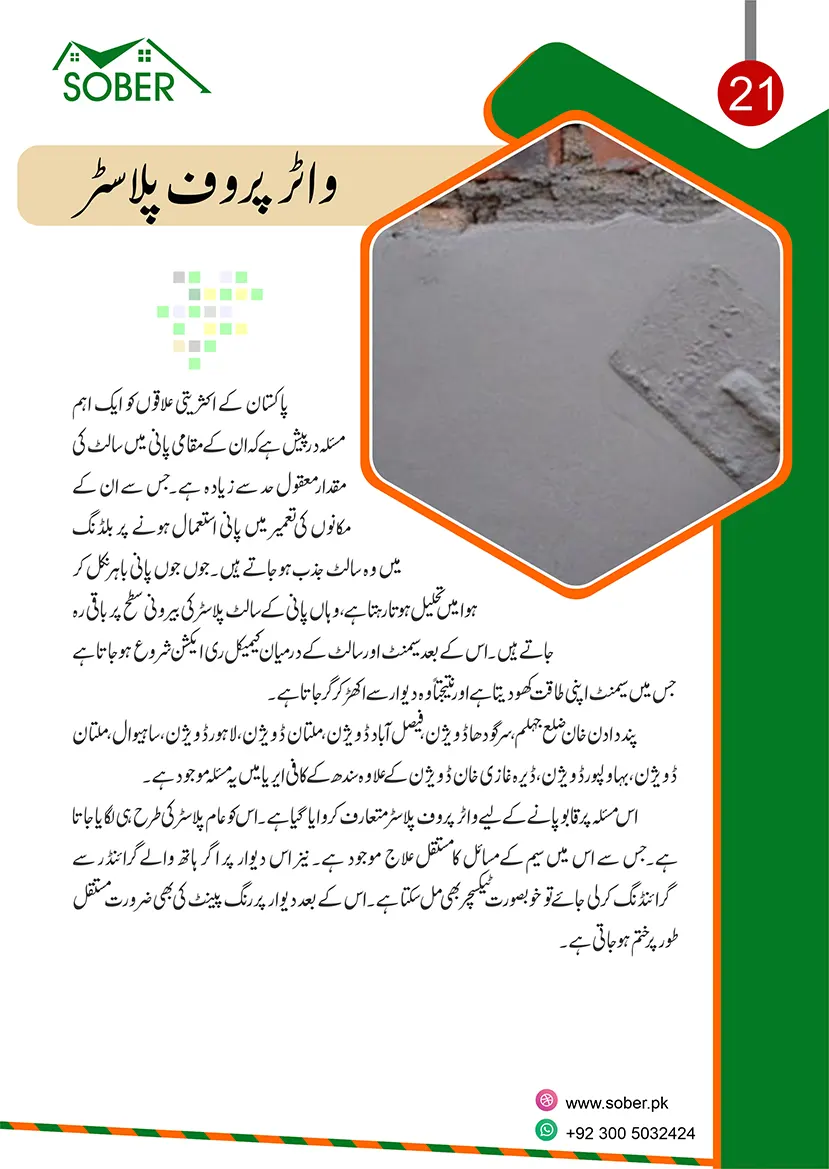 Some Products of SOBER Technologies Int. Islamabad. Pakistan
Solar Chips | Thandi Chips
Solar Roof Coating | Solar Coating
MAT Munawar Air Conditioning Tile | Solar Tile
Other information related to our products is available on our Facebook page, YouTube Channel and Website.
Website: https://sober.pk/
Facebook: https://www.facebook.com/profile.php?id=100091939044436